Instant Room Details
To get an up-to-the-minute report on a single patient, simply touch his or her room on the hospital map, and this screen will appear. Each vital sign is displayed in both numerical and graphic form. Just as in the overview screen, color highlights any warning conditions (red for critical, yellow for warning, green for safety, and purple for off-line). Now even understaffed hospitals can respond to emergencies in seconds, knowing what to do before they reach the room.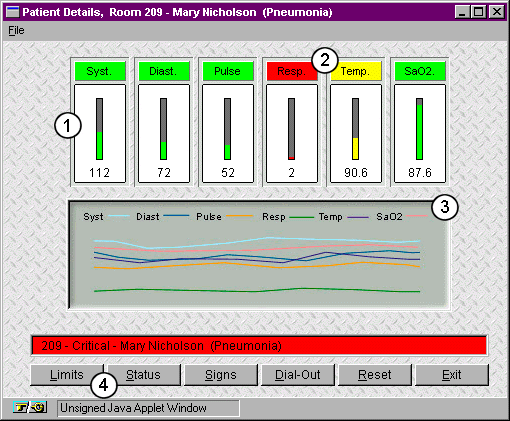 |Contents| |Solowatch Brochure| |Summary| |Goals| |Status|
|Brochure Contents| |Previous Page| |Next Page|
---
By J. Michael Crawford.
Copyright (c) 2002 Solo Systems, Inc. All rights reserved.
Revised: March 20, 2002.